TO SPRINGERFILMS Inc.
PROVIDING CANADA AND THE WORLD WITH QUALITY AFRICAN AND CARIBBEAN TV PROGRAMMING.

THIS IS OUR
SANDI'S PLACE SITE
Director Keith Springer giving instructions about a scene.
SANDI'S PLACE is a unique situation comedy set in a nightclub. SANDI'S PLACE is the first Canadian Caribbean Sitcom, written and produced by Caribbean people. Seen by almost 12 million viewers during it's airings on CHEX TV twice and 7 times on CHIN/City TV.
.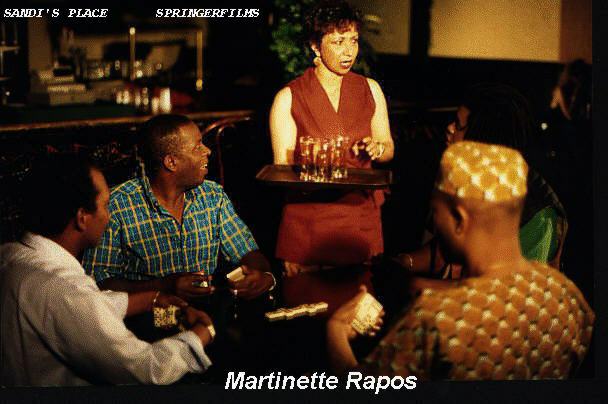 Roy Plummer, Luther Hansraj and Martinette Rapos.

Based on a an original idea by Writer/Producer/Director Keith Springer, the entire concept was brought to reality via his production company SPRINGERFILMS Inc.

Jacen Brathwaite and Allan Legall

SANDI'S PLACE is the name of the fictional Caribbean night club located in Toronto owned by Jamaican immigrants Charles and Judy Sandiford. It is a place where Caribbean people come to hear the latest music, the latest gossip, the latest news from home and of course slap a few Dominoes.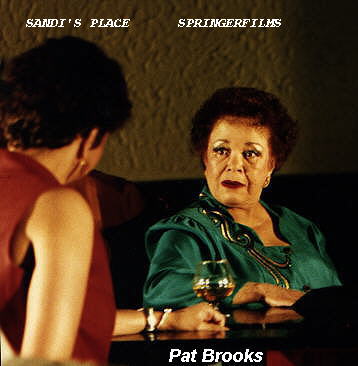 Pat Brooks
The cast is superbly led by stage and film actor Roy Plummer as Charlie Sandiford. Martinette Rapos plays Judy. Another veteran of stage and film Luther Hansraj plays Charlie's best friend Ahmed Singh, a Guyanese. First time actress Althea Blackburn plays Leta Williams one of the two full-time waitress at SANDI'S PLACE. Leta is a vibrant Trinidadian who, although she likes her employers and the bar regulars, is looking for a way to get to the US since she aspires to be an entertainer.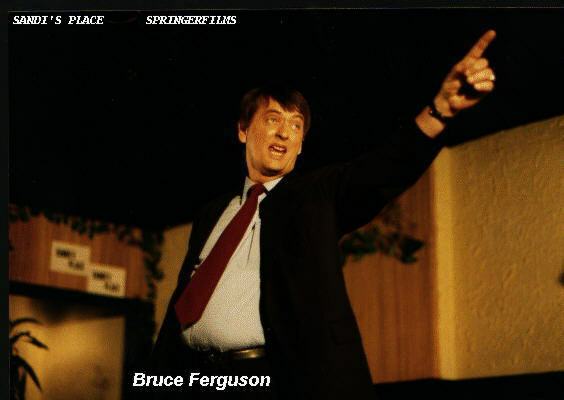 Bruce Ferguson
Then there is Leta's American boyfriend, Joshua Ulysses Davis, better known Judd played by Karl Brown of Leroy's Baby fame. Judd is sly and as smooth as silk. Sandra Witter well known for her stage portrayals in a number of Bianca Jacobs' plays, stars as the other full-time waitress, Chakana Johnson a second generation Canadian, whose inability to comprehend most of the Caribbean patois spoken in the bar often makes her the butt of jokes. But Chakana is no shrinking violet and is always quick with a sharp witted rebuttal. along with Sharon Campbell as Tiffany. Another veteran of the Toronto Caribbean stage Allan Legall plays Kwami Abdul, a Grenadian university lecturer, and his best friend DJ Jerry a Barbados born, Canadian raised radio disc jockey is played by Jacen Brathwaite.
.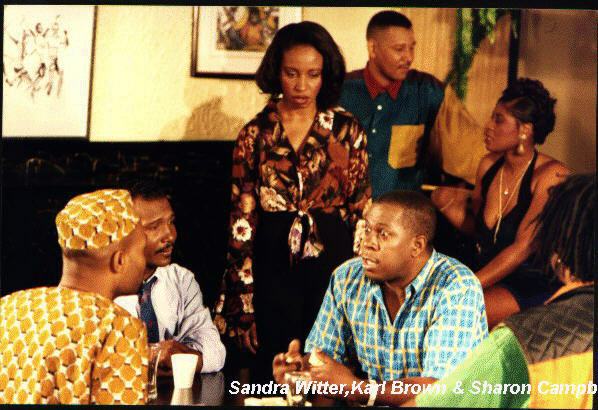 Sandra Witter, Karl Brown and Sharon Campbell
The cast is rounded out by CHRY radio personality Melaine Myrie-Brown as Tricia Martin comes to the club to listen to the music and to do a bit of socializing. Pat Brooks as Mrs.Silverstein an elderly rich Jamaican widow with a sharp tongue and an acid wit who tells juicy bits of gossip in Jamaican patois, and Bruce Ferguson as the Liquor inspector.
In the Pilot episode everything seems to be going against Charlie.
Luther Hansraj,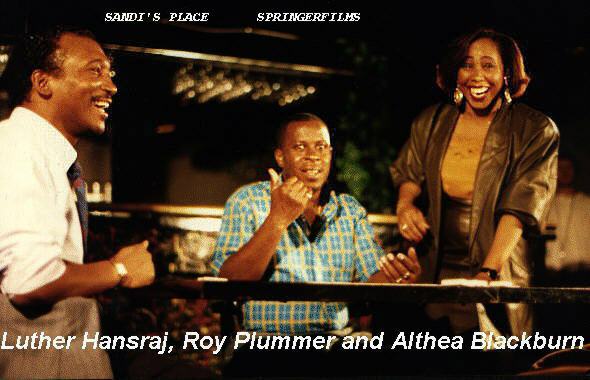 Roy Plummer and Althea Blackburn.

On this night Judy announces that she maybe pregnant.
The band that was booked by Chakana has postponed.
Leta one of the two regular waitresses phones to say that she would be late because Judd her boyfriend has borrowed her car and, to top it all off Charlie is expecting a visit from Mr. Lawrence the liquor inspector.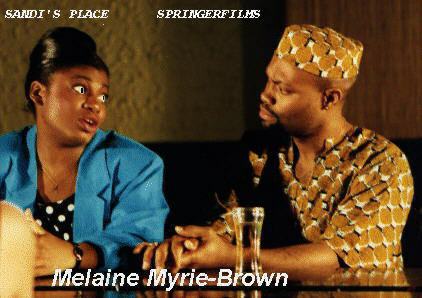 Melaine Myrie-Brown and Allan Legall
Each situation is handled with the wit, humour and charisma that is associated with the Caribbean way of life. Live Music for this episode is provided by Lascelles James and the Starlight Band.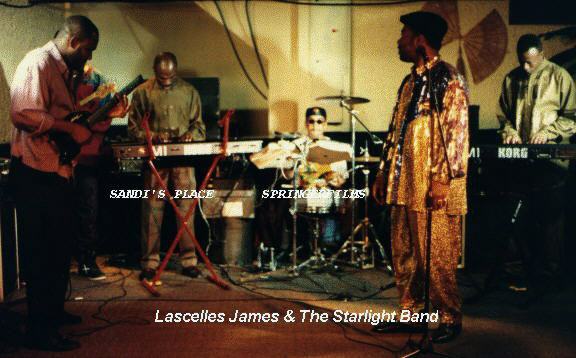 In true sitcom format all is resolved within the 30 minutes duration of the show.
Contact us :
SPRINGERFILMS Inc.
201 Brunswick Avenue,
Toronto, Ontario, M5S 2M4 Canada
Phone: 416-858-5879
E-mail: keith.springer@utoronto.ca
.